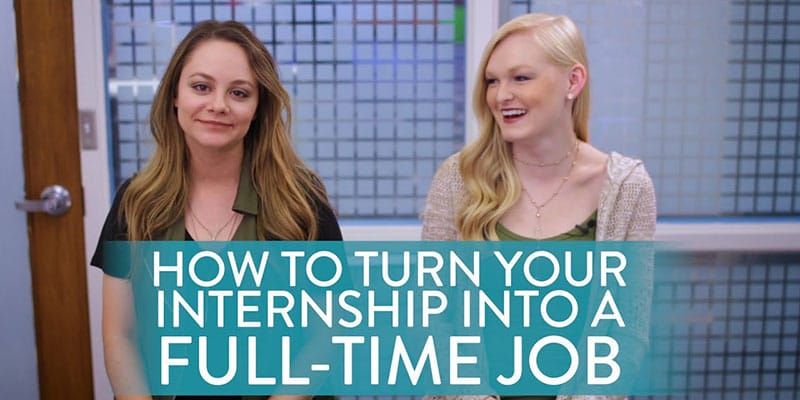 Organizations seek interns who are willing to work with limited or no pay and exhibit go getter attitude. Candidates enthusiastic to work for gaining experience and have strong work ethics are preferred by the companies.
The valuable skills like professionalism, ability to work in team environment, competency to work independently etc. learnt during that internship period helps a lot in future career perspectives. If you have the potential to build valuable professional contacts and show signs of dedication as well as hard work; you can easily turn your internship into a full time job.
Here are some simple steps that will increase the likelihood of turning your internship into an excellent career opportunity.
Play it right Enjoy the whole experience of internship and play your cards right whenever necessary. Develop a strong desire of changing that temporary part time position into a full time permanent job. Work on your special professional characteristics that will grab the attention of the employer.
Meet and greet everyone Excellent communication skills with positive attitude help in nurturing valuable work relationships. Take initiative of introducing yourself to the supervisors and exhibit friendly attitude to everyone you meet. A simple greeting creates a lot of impact on your colleagues as well as your seniors.
Attitude Positive demeanor and helpful attitude will surely give a brilliant start to your career. Your eagerness to do everything that your internship requires with a smile makes you the most ideal intern. Your courteous and friendly attitude with co-workers will definitely pay off in the long run. Your employer will take notice of you if you get along with your colleagues well and work co-operatively. Your ability to manage conflicts and proficiency deal with high pressure situations are valuable add on for your attitude.
Ask Questions Taking advantage of your student status by asking questions about everything, which is not clear to you, gives a positive impression to the employer. They believe that the intern asking questions is enthusiastic to work and really want to understand about the industry. Internships can prove to be a great learning experience that will boost your career and any other metro cities. Jobs in Delhi / NCR, Mumbai, Bangalore, Kolkata, Hyderabad, Chennai etc.
Find a Mentor Try and learn from those you admire for their sharp skills, knowledge, expertise etc. Mentoring relationships developed during internship remains for longer period. True professional enjoys sharing his experience with the learners, so it's better to take their assistance for entering the professional field.
Be Available For transforming your internship to a permanent job position, you need to remain available to your employer. Your availability at crucial times gives them an impression that you are interested to get a permanent job.
When your internship period comes to an end, do not hesitate in talking to the employer directly about the permanent job. You never know, he may be interested in keeping you as an integral part of the team. Your enthusiasm, dedication for work and above all following these simple tips will definitely yield fruitful results for your success in the professional front.