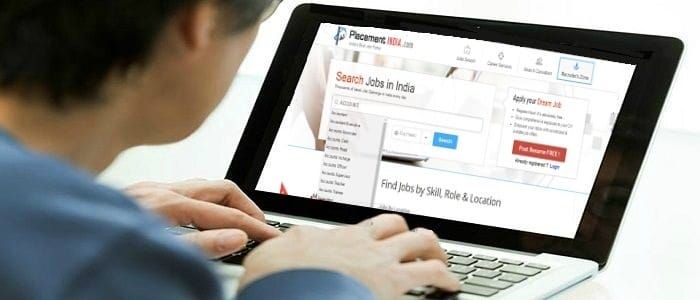 Gone are the days when you had to go to various companies with a resume in your hand to apply for a job. With everything going online, it has become easier to find jobs for fresher as well as experienced persons. The online job portal, PlacementIndia.com enables you to create a profile where you can enter your details and search for your desired job quickly and conveniently. It also makes your profile visible to many employers who are interested in hiring a candidate for their organization for the same job post.
Online job portals are just like social networking sites. You need to be active to make your presence felt. Sites like PlacementIndia.com work in the same manner. In order to be actively present in the recruiter's feed, you need to update your profile on a regular basis.
How Do These Portals Work?
Online job portals are nothing but a virtual platform where employers meet job seekers. If you are a newbie on such portals, it is important that you understand the working of these sites. Everyone must have used Facebook, these portals work exactly like that. You make a profile, which is visible to several recruiters and employers. The more active you become, the higher are your chances of being noticed by a potential employer. Having made a profile here, move on to make total use of this portal in an effective way.
Effective Use Of PlacementIndia.com For Better Results
PlacementIndia.com was established in the year 1997 and has been offering ideal job opportunities to job seekers since then. If you are a fresher who has signed up on PlacementIndia.com, then these tips will definitely come in handy to optimize your search results.
Complete Your Profile
Many people who sign up on various online job portals do not care to complete the job profile. Keep in mind that it is very important to complete your profile. Certain details that an employer can be looking for may be missing in your profile, which may lead to rejection. Therefore, it is advised that you fill in all the necessary details to get better results.
Be Active
As discussed above, this portal works just like social networking sites that demand you active presence. Whenever a recruiter searches for an employee using certain search tools, the most active profiles always lands up first in his or her result page. If you stay active and dedicate some time for your job search, then it will definitely help you get your desired job quickly.
Use Keywords
The keywords that the portal asks you to choose have a specific purpose to serve. These same keywords are used by the recruiters to search human capital for their organization. The increased use of appropriate keywords to define your skills will lead to an increase in the number of recruiters interested in your profile. The keywords would lead more recruiters to your profile, thus increasing your chances of getting a job.
Update Resume
Experts say that while looking out for resumes, employers always prefer those who have an updated resume over outdated ones. Even if you just change the spelling or add an extra line, an updated resume will enhance your chances of getting a job quickly
Catchy But Decent Resume Headline
The first thing that a recruiter will look while browsing through various resumes is the headline. A compelling resume headline will cater more attention and make the recruiter stop to go through your profile.
Keep in mind these five points while searching for job on PlacementIndia.com or any other online job portal for that matter. These tips will always help you get better results and find a suitable job as early as possible.