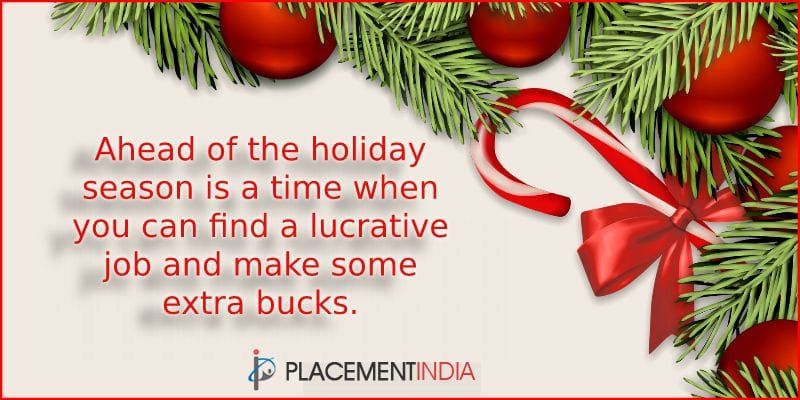 The holiday season is here once again and people are gearing up for a long winter. The holiday season brings with it job, merriment, and festivities. Families get together and have a happy time. But what excites everyone the most about the holiday season are the gifts that they exchange. You get amazing gifts from your loved ones and in return, you give them some exciting gifts. This is why, the retail, tourism, and hospitality sector gets a boost during the holiday season. Ahead of Christmas, whether it is the retail sector or the e-commerce sector, people tend to splurge a lot on gift shopping.

This is also the time when the people in these businesses tend to get busier than ever. The sales spike up and stores look for employees to manage this increase. This is where the students, fresh graduates, and many others can find a great job opportunity. Ahead of the holiday season is a time when you can find a lucrative job and make some extra bucks. There are many places where you can find a job this Christmas and if you are looking out for the same, here are some tips ahead of the holiday season to bag the job.

Try Getting Retail Jobs
One of the busiest sector during the holiday season is the retail sector. You can always go for Retail jobs as this sector will definitely have many open spots for you to fill in. They are majorly looking to hire temporary employees who can work for the season when their sales are going high and many of their permanent employees have applied for leaves. You can focus on the retail industries and look for a retail job to close your job search quicker.

Hospitality Jobs Are Booming Too
Another sector that is seeing a boom in job vacancies in the hospitality sector. Along with tourism, the hospitality sector also attracts higher sales. There are many people that just plan a trip or vacation during the season. You can easily look for a lucrative job that is flexible and pays also great in the hospitality industry. Try looking for openings in hotels and restaurants during this time.

Opt For Large Chains
Another tip that can help you get a job quickly during the Christmas season is to look for jobs in large chains. In foreign countries, chains like Walmart, Costco and in India, chains like Big Bazaar, Lifestyle, etc., offer great job opportunities. They have a spike in sales during the holiday season due to the sale and discount that they host. You can opt for these large chains to find a more flexible and high-paying job.

Find A Job Online
The majority of the retail jobs recruiters and other employers post job vacancies on online job portals to fill the opening quickly. You can be there when they post and opening and go out for an interview as soon as you see any job listing. The online trend is gaining pace and it is high time that you also take the online route to find a job in the holiday season.

Be Open For Quick Joining
While most of the people generally need o to serve a notice period and need some time before joining any job opening. When you are looking for a job during the Christmas season, make sure that you are available for immediate joining. Apply to as many job openings as possible. Be available for interviews as soon as you get a call. They would want someone to join for the seasonal rush and would want you to join immediately. Make it clear that you would be readily available to join then as soon as they need it.