Higher scope of commerce jobs for graduates in 2022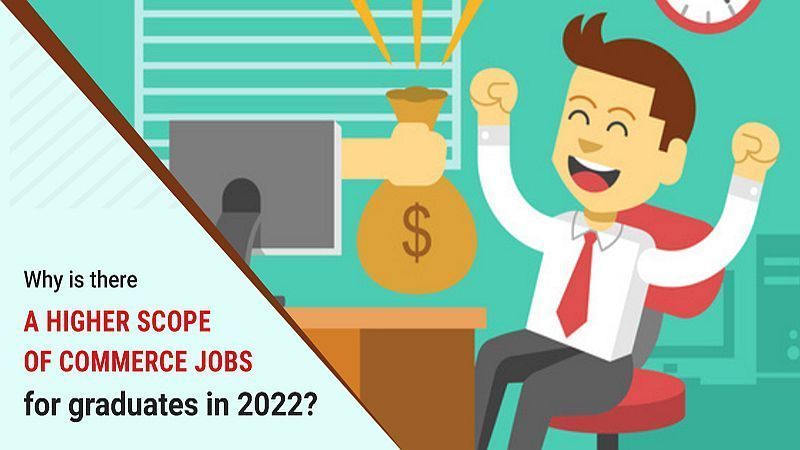 Commerce graduates have a huge scope for career options. They can work in banking, trading, marketing, retail, logistics, etc. They can also pursue higher studies in fields like business management or accounting. Students earlier used to think that they have only limited job opportunities in Commerce to grow. But this is not the case now, as a pool of job opportunities are waiting for commerce graduates.
The significant role of Commerce graduates
The function of commerce graduates in India has become significant. There is now a trend of commerce graduates going for job vacancies in finance and banking. Instead, they are going for jobs in social media, multimedia marketing, and content management as a part of digital marketing.
A commerce graduate has completed an undergraduate degree in Commerce from a reputed college or university in India. They have traditionally pursued careers in banking and finance. Still, with the rise of new industries such as digital marketing, data analytics, and content management, many more opportunities have opened up.
How are commerce graduates competent enough?
Graduates with Commerce degrees are well-equipped to work in the financial sector, one of the most profitable industries. Commerce graduates are one of the most searched graduates. They have several opportunities in their field.
Commerce graduates can work as business analysts, marketing managers, financial analysts, etc. The list is not enough for these jobs, though. There are many other job vacancies for Commerce that grads can enter and excel at.
Assortment of Career Options for Commerce Graduates in India
The Indian economy is one of the fastest-growing globally. With this growth, the demand for commerce graduates has increased. These graduates can pursue various career prospects in India as well as abroad.
Commerce graduates are free to pursue careers in
banking and finance,
advertising,
marketing,
event management,
journalism, and
publishing.
Actually, they are well equipped to enter any industry with Commerce job vacancies. Their education imparts them with excellent skills like communication, critical thinking and problem solving, essential for any job.
Commerce graduates are likely to find job opportunities in Commerce in the following sectors:
Banking, Financial Services and Insurance (BFSI)
Telecoms, Media and Entertainment (TME)
Retail and Manufacturing
IT-Software Services
How to get Job-ready After Studying Commerce in India in 2022?
The following steps will guide you prepare for your commerce job vacancies after graduation in India:
Internships and work experience
These are important to create your skills and expertise. They will guide you to understand the industry better and help you get a job faster. You can take internships at companies like ICICI Bank, HDFC Bank, Kotak Mahindra Bank, etc.
Make yourself more employable,
You must develop necessary skills such as communication, negotiation, leadership skills etc. You can do this by taking courses like the Advanced Negotiation Skills Course from ICAI or the Advanced Leadership Skills Course from IIM-A.
Learn about the latest developments
The commerce industry has changed a lot over the past few years. With the inception of e-commerce, it\'s never been more comfortable to purchase goods and services. Companies worldwide take advantage of these new technologies, from online payments to virtual storefronts.
Skillsets Mandatory for Employers in a Commerce Graduate
Commerce graduates are in heightened demand in the workforce. Employers are scrutinising candidates with their skill set to help them succeed in their business.

Interpersonal Skills : These are vital for dealing with people outside or at work.
Time Management Skills : important to manage your time well and get everything done on time. This makes you more important to your employer.
Communication and interpersonal skills : You must be able to communicate and interact with people from different backgrounds and cultures. This comprises of communicating with people who speak different languages.
Critical thinking and problem solving : You will have to think critically to solve problems instantly and creatively, which will help you make decisions independently.
Reading comprehension : Readin is necessary from various materials like books, newspapers, magazines etc... Use this information and understand what they say appropriately in your work or studies.
Mathematics : have at least the basic knowledge of mathematics, such as algebraic equations and forex.
Experts' Advice on seeking job opportunities in Commerce
It is not easy to get a Commerce based job in India, especially if studying Commerce. Many factors will determine how prepared you are for your career after studying Commerce.
Pick the right skillset.
Make sure you have the proper skill set for the position you want. This means that if you\'re working in an investment bank, it would be best to study finance or accounting.
Gain experience
Next, it is essential to have experience before applying for a Commerce job in India. Get interned or volunteered at a company in this industry before applying for a full-time position.
Build connections
Finally, it is valuable to build connections with people currently working in this industry. So, they will help you introduce yourself when the time comes.