Ground Rules to be Followed for a Right Job Placement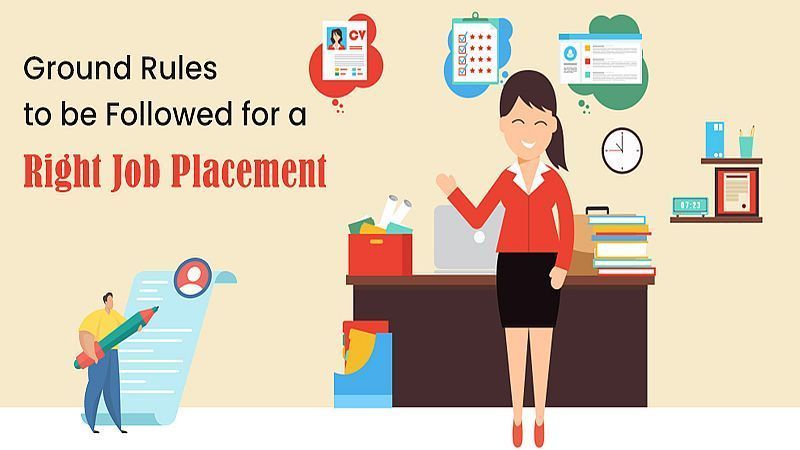 Placing the right person for the right job in a company is the most important duty of an employer. Wrong employment might prove to be a fatal decision. Employee recruitment is no less than a challenging job to perform. The working potential and aptitude of the employee would be judged at every stage, based on the employer's selection.
Though there cannot be any fixed rule, yet some basic guidelines should be followed before hiring personnel. But when needed, these rules should be made dynamic and flexible.

Applicant should have a proper sense of commitment : The employer should always go for a candidate who would prove himself or herself to be promising. Above all the candidate should possess a strong quality of commitment, without which it might be a very bad decision to appoint him. People who don't value their words, generally tend to switch careers and changing jobs. This quality is not at all a good sign for the company. It is always recommended to check the candidate's job background and the job duration with his previous employer and also the projects he or she worked for.

The candidate should possess good Analytical Skills : Apply various methodologies for assessing the analytical and learning aptitude of the candidate. A single way might not apply to all applicants. Therefore, the candidates should be evaluated uniquely, which at times might be tricky for the employer. Judging the interviewees according to the curriculum vitae presented by them might not be wise always, for it can be tampered with in few cases. Also, high confidence and no enough skills is a dangerous combination. Therefore, irrespective of a good CV and confidence, analytical skills should be judged properly and educational requirements should be met.

Compatibility : An employee who can get blend with the co-workers and another existing workforce always get a thumbs up. Eagerness and enthusiastic features are always wanted in an employee. If a candidate possesses an adverse behavioural attitude, then it not healthy for either the company or the co-workers and managers. Contacting the previous employer or taking a psychometric test might be a good way of judging the candidate for his compatibility skills.

Betterment and Amendment of the Hiring Process : The hiring process of an organisation should be well decided and clearly stated. This is because, for a company, big or small, the employees who are supposed to be selected would define the working culture and outputs of the organisation, so hiring an employee or posting them to a job is a very important aspect to focus on. Some significant steps which should be followed are --
Asking questions that directly indicates his or her working capability, knowledge and skills, attitude and working confidence and most importantly the potentiality of the applicant.
While advertising for a job vacancy or while a Free Job Posting on social media, the job profile, which includes the responsibilities, required education and experience of the job, different skills and knowledge, should be clearly stated. This helps in having a list of applicants with specifications and also makes the process of evaluation easier.
Taking advice from experienced persons, inviting senior managers to man the interview is always recommended.
Hiring Interns : One of the very much appreciated ways of hiring personnel is through hiring an intern. Employing the right person with the required potentiality and skill for the job is very important. Hiring an intern also calls for the same hunt for the qualities. Now an intern is trained with all the little job details and made apt for a job role. Therefore, it is always wise to select an intern as an employee for a job. He or she will be well familiar with the strength and weaknesses of the post, knowledge and skills required and practical behaviour and attitude.

Maintaining a Social Relationship with the Applicant : Developing a social relationship, not at all means asking about the personal affairs of the candidate. It is objectionable and equally uncomfortable for both employer and employee. The team of Human Resources might concentrate on the participation of the candidate in social media.
For hiring an employee of the technology field, finding out his or her participation in social media might be a great strategy to go through their social welfare and developing a social relationship. This is quite a common practice in various companies.