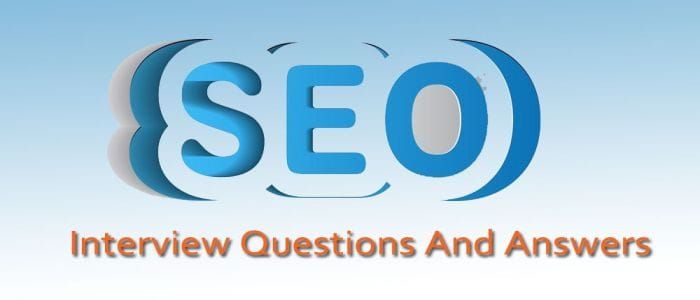 Interviews are daunting; howbeit you are an amateur or an old-hand. And when it's an interview for a position as enigmatic as the SEO, the stakes automatically gets higher. Obviously, whoever is heading to join such a post is well-versed with the fundamental jargons of the job like "What is SEO" or "What is keyword", etc. The true talent breathes inside the ingenious minds, keen eyes, and determined spirits of an SEO striver. And the one who is able to demonstrate such talent and analytical abilities in an interview score the golden star.
So, let's just save you from the ennui of the regular questions, and present to you the valuable questions along with their solutions that every SEO must prepare before their formal interview with the top-brass SEOs:
"Openers"
I've cited below the few knowledge-based questions that every intelligent SEO candidate must be familiar of:
What Have You Got To Deserve A SEO Position?
Solution:
SEO aka 'Search Engine Optimization' does not concern any specific task, but actually is a congregation of the several exigent missions such as the SEO strategy, blogging, social media optimization, link building, and others. Since, a single person can rarely accomplish all of the above mentioned, as an SEO candidate you must be able to answer the field where your actual proficiency lies. Fret not, this question is not meant to measure your experience, but your latent and ardor.
Which SEO Tools Do You Favor?
Solution:
An SEO without tools is like the restaurant without a chef. There is no way to perform the serious SEO automation work without the use of the right set of tools. You as a candidate must be able to answer the name of the tools without which it's almost impossible for you to fulfill your blogging, keyword research or any other related tasks. Although there are 'n' numbers of tools ranging from the Google Analytics, Copyscape, Webmaster Tools, etc you can take the name of, however, you must back your answer with the sufficient substance like "what you love about them" or "what are their pitfalls'.
How Do You Measure Your SEO Activity?
Solution:
The measuring and tracking abilities of an SEO professional utters if his/her SEO activity is positively moving towards your SEO goals or not. Therefore, whenever such a question pops up in an interview, it's the time to shed light over your gym of the metrics and key performance indicators. You can confidently talk about the organic traffic, incoming links, keyword performance & rankings, referrals, social signals for landing pages, conversion rate, etc.
What Is Your Opinion About The Black Hat And White Hat SEO?
Solution:
First of all, you must be sentient that the once-upon-a-time white hat SEO tactics can now be considered as the black hat, and the black hat SEO, besides rendering you quick-fix solutions, can get your website penalized. Basically, the Black Hat SEO is optimization of techniques, tactics, and strategies on a search engine irrespective of the laid-down guidelines, while the White Hat SEO is generally optimizing the techniques, strategies and tactics to cater the human audience in uprightness with the search engine guidelines. Whenever such a question emerges in an interview, you as a bright candidate shall answer the basic meaning of the Black Hat and White Hat SEO, as well as the real-life success situations.
"Successors"
It's the time to ask some behavioral questions that gives an interviewer an advanced idea about the candidate's SEO jobs approach and rationale:
How Do You Stay Abreast?
Solution:
Being up-to-date is an essence to survive and triumph amid the fierce competition in the web world. So, the candidate must be able to name few blogs, forums, and communities that they constantly remain in touch of in order to fetch the idea of the latest updates, strategies, and tips to increase the efficiency of their SEO activity. Also, you can earn bonus points by sharing any attention-grabbing topic or the significance of the latest Panda update, you've recently read about. A few forums and blogs you can refer are SearchEngineLand, WebmasterWorld, MOZ, Jimboykins, and SEOSmarty.
If You Have a Choice between One Big Site or Many Small Sites, What Would Be A Better Choice From SEO Point Of View?
Solution:
This question is generally popped to assess your viewpoint. So, you've to smartly answer the grounds for choosing the larger as well as the smaller sites. If you have content focusing upon a specific subject, it should be strategically used in one big site in order to create the greater number of pages and generate the higher search rankings. However, if you have variegated content that is focusing upon the several subjects, it's advisable to allocate them systematically into the different small websites using the appropriate keywords.
If Your Recently Applied SEO Algorithms Fail To Improve Your Website's Performance, What Would Be Your Subsequent Step?
Solution:
Such questions are asked to test your behavioral and troubleshooting skills when stuck in an unfavorable situation. So, it's the time to draw a light on your action plan to come out of the problem. You can start by analyzing the root cause of such a fall based upon the relevancy of keywords, competition, etc. and after that checking the indexing of the page. Then, you can name few tools and strategies you'll use to resolve the issue. The core reason of asking this question is to measure your inventiveness as the organization doesn't want to spoon feed their SEO.
These were just a few questions that the SEO honchos ask to assess the true analytical skills, organizational capability, and creativity in the potential members of their SEO team. Prepare them well and leave a lasting impression!