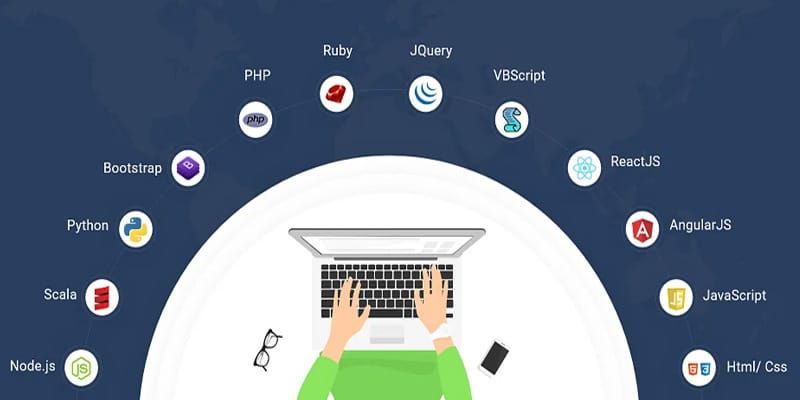 We can't do without websites and any website is supported by a variety of web developers. Get some fantastic tips to make your career high.
It is the best time to discover emerging technology and master them. It's fair to say that web pages are our new library with mobile phones in almost every urban site. We see so many websites every day, including e-commerce, social media, education, entertainment, advertisement, and information. This is also why HTML jobs in Noida are so in demand nowadays.
However, do you know who authors all the website pages? Yes, the developers of the site. In essence, a website is designed by web developers who write the source code for building a website. To access the website's source code, visit your preferred website and click on Ctrl+U (for Windows) or Cmd+U (for Mac).
What Is Web Development?
Web development concerns the building, production, and management of Web pages for intranet or internet hosting. This refers to website architecture, the publication of websites, web programming, and database administration.
Front-end Developers : When you arrive on a website, the work of a front-end developer is what you see on the website. The key consideration is to improve the customer side of the website. You make sure the web looks fantastic and is meaningful for your customer. They use HTML, CSS, JavaScript, and jQuery to convert a static Website in a web-friendly way.
Back-end Developers : The job of the backend developers is to connect the server to the database and the server to the website. The architecture and security- and server efficiency of Back-End developers are less relevant. They guarantee that all moving parts work seamlessly behind the scenes. They use PHP, Ruby, Python, and other server languages for that purpose.
How To Start Web Development
Develop Your Website : The easiest way to learn is to generate ideas and create a website. For starters, if you're a foodie, make a food review website!
Do an internship : You have the opportunity, not to forget the connections and realistic lessons you learn, to create websites that are used by thousands of people.
Learn : The practice is the perfect way of learning web creation. You can use places like CodeChef, Hacker Noon, HackerEarth to compete and develop your programming skills for different coding competitions.
Take part in a hackathon : Hackathons are a must for a programmer for several reasons. Hackathons are a perfect way to test and compete with other software developers for new ideas.
Do freelance work : Once you have confidence in your expertise, you are working on some exciting projects. Freelancer, Upwork, and Project4hire have some awesome ventures.
Contribute to an open-source project : Open source refers to a programming application where the source code is accessible for use and alteration for the general public. Open-source code is designed to expand the source code for programmers and exchange improvements in the community. Any of these projects can be attempted open source.
Put your code on GitHub : GitHub is a crucial platform for every web developer to save code online and enables others to see what changes you've made. You should also speak to other developers about the problems with your code.
Stay updated : Use Tutorialzine, DeveloperDrive, and Tuts+ to keep yourself updated on new features, trends, and processes.
Final Words
Indians are going online with inexpensive smartphones and affordable Internet. Companies became part of 'Digital India.' At the same time, web creation has become one of the most common skills with India developed into a start-up center. Web growth is an immense sector with increasingly increasing career prospects. Start learning to code.