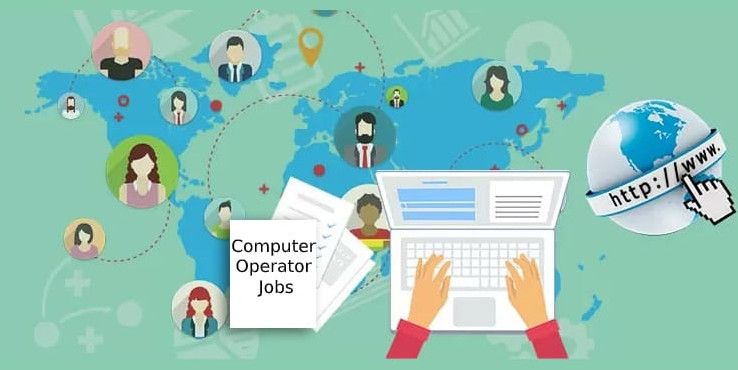 Are you tired of looking for jobs in the area of the computer operator? Getting no positive results, did your search end? We're here for you, don't worry. If you have every experience you need to be a fantastic computer operator, you can get the best Computer Operator Jobs in Delhi. Delhi is packed with multiple jobs.
Computer operators monitor and test data processing devices in line with corporate directives, companies, research, engineering and other data in electronic computers and peripherals. They will type commands and set controls on a computer terminal on computers or peripheral devices. They also monitor and respond to running and error signals.
Why Delhi Is Good For Computer Operator Jobs
Big Companies : In Delhi, there are various foreign businesses. They not only offer computer operators an outstanding career prospect but also offer an excellent wage.
Accessible PGs and rental rooms available : Many rooms or PGs are accessible in the city at affordable rates. You will then find the place to live with the budget that you want to invest anywhere in the region.
Verified jobs : The majority of jobs are reviewed, even these are screened by the staff, so you would not have a problem with them because of large businesses and tremendous potential.
Responsibilities Of A Computer Operator :
In order for the most efficient use of such tools, computer operators oversee the operation of hardware instruments. Mainframe machines, mini-computers or personal computer systems can be used by computer operators.
Computer technicians should foresee obstacles with deliberate action to address organisational problems. The functions of the computer operators vary with system sophistication, the form of equipment used and the policies of the employer.
Generally, a console is used by computer operators for a mainframe computer or a group of minicomputers. The system operators use the operating instructions created by programmers, customers or service managers to configure the computer controls for the machine and peripheral equipment required to perform a certain job.
Computer operators pack tapes, discs and paper machines if necessary. The computer watches and responds to running and computer messages during the computer operation, which is accessible 24 hours a day for massive computers. Messages identify the needs of each work being undertaken.
If an error message occurs, operators must find and resolve the problem or terminate the programme. Logbooks or working logs are also kept by the customer to document both workflows and events during change, for example, system defects. Software operators can also help to evaluate and debug applications for programmers and system analysts. A computer programmer plans the necessary data output for a computer programme.
Computers also process the operations of hardware machines, including mini-computers, personal computer networks and mainframes for effective use by computer operators. Other practices such as operational centre administration, automation kit support, or the analysis of computer systems can be retrained in order to recommend ways of improving performance. Also part of the separate fundamental activities is the computer output checking and the registration of problems.
Professional Opportunities
Computer operators typically receive instruction on the job in order to become acquainted with the equipment and practises of their employers. The training time varies according to the student's status and background. However, the key to winning an employer's role with some big organisations is a previous job experience. The computer operator may advance to administrative positions in specialised data processing or computer centres. They can also find jobs through on-the-job learning and continuing professional instruction on issues like network management or technological assistance.
Final Words
Any of the computer operators is a programmer or analyst who acquires programming skills. Some also conduct external work to build frameworks, developers of software or accomplished authors. A lot of professionals use their computer skills, like graphic designers or animators. This can be a good career option for anyone.