Importance and scope of computer operator jobs in the IT industry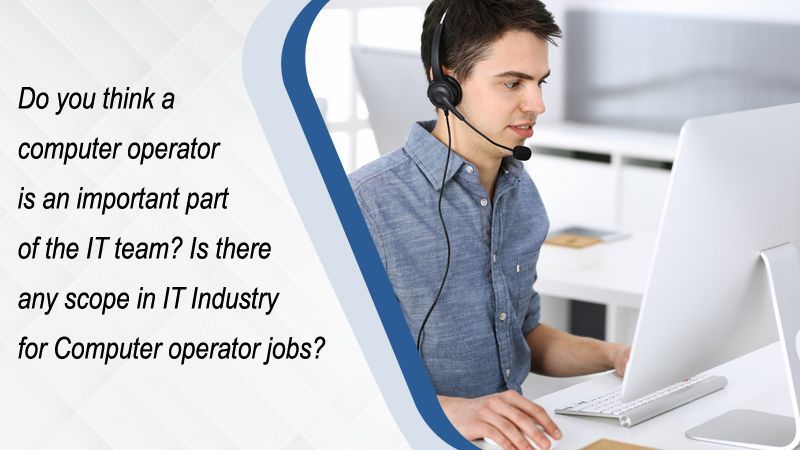 Importance and scope of computer operator jobs in the IT industry
Computer operators are an integral part of the IT industry as they control and supervise the computer networks and ensure that the machinery is running smoothly at all times. Computer operator has diverse job opportunities spread across industries and has a scope of specialization therefore are many in-demand jobs that pay relatively well. There are wide Computer Operator Job Opportunities in India depending on their specialization like system engineer, program writer, network architect, etc.
Importance of computer operator
Computer operators handle and supervise computer information devices, software, and hardware to ensure that they are at par with industry-set standards. They are also responsible for the maintenance and installation of the computer network and system for the business. These experts also help take care of any software or hardware issue when experienced during the operation of a computer system or network. Computer operators also help maintain the business inventory of hardware and guarantee that every computer system and network component are working seamlessly.

Apart from that computer operators also perform other responsibilities like managing and maintaining supply inventory, maintenance of the computer system and network, performing documentation, etc. Hence, every IT industry requires computer operators to ensure smooth and efficient everyday functioning.
Skills for computer operator
Being a computer operator requires an individual to possess the certain skill to grow in their field and have the potential to earn higher income in the future. A computer operator should possess skills like problem-solving, organizational skills, communication skills, detail-oriented, programming skills, etc. Having advanced computer knowledge will allow him or her to grow and scale their potential as a professional working in the industry. The need and skills of computer operators may vary from one field to another depending on the business requirement.
Scope of computer operator
There is a ton of scope for computer operator jobs depending on the specialization there are various types of computer operator requirements within several industries and businesses within the country. There are several domains where a computer operator can find jobs as an experienced and new professional. The average salary of the computer operator is about 2 lakh and above per year. The salary may increase with years of experience in the field and added skills and knowledge. Computer operators work independently or in the house within the company with multiple clients as per their choice. However, both these income-earning avenues of their own set of pros and cons.
There are different types of computer operators like mainframe operators, network administrators, database managers, user-support specialists, etc. Depending upon the field of specialization budding computer operators can choose the jobs available in the market space.
If you want to pursue the goal of becoming a computer operator, you are required to have a bachelor's degree and certificates like a computer operator and programming degree or other computer operator course degree from a reputable institute. To find a good computer operator job with decent pay you must also have a work experience within the industry of a few years in your pocket. Work experience also enhances your performance and improves your scope for better pay.
Thus, to conclude computer operators are needed and very much part of the IT industry. The need and demand for computer operators are bound to arise in the future as people today are more inclined towards digitalization. Computer operator job openings have grown considerably in recent years and hence there is much scope for earning in this field. You can also check for Computer Operator Job Openings on various online worksites to land a job in your dream company. You can also invest in computer operator courses online or offline to enhance your job skills and grow in your field.