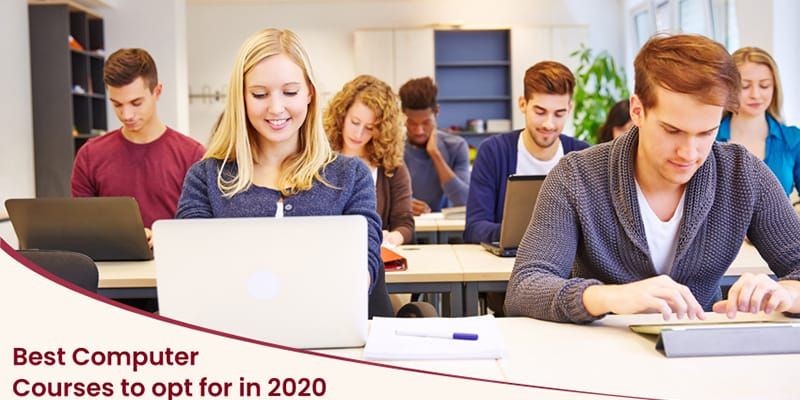 For decades, the technological era offers a huge wave of opportunity to pursue high academic qualifications. If you have problems deciding which program you should pursue or are working to gain high promotional criteria depending on your computer skill, then the following are the best online computer courses to get employment in 2020 to support good careers in the future.
Web development - The short term job-oriented course is web development. Freshers would have different chances to work in this area. For their online and web development work, companies hire web developers. Increased demand for web development professionals has given rise to the online industry and has created new and wonderful employment opportunities for candidates. Developers' criteria differ according to their work profile. Nonetheless, for this profession, a bachelor's degree is a must and some advanced jobs need a master's diploma. The coding courses include. Net, Pearl, Python, SQL, PHP, and Java.
Mobile application development - Mobile use is now growing rapidly and India is the world's third fastest-growing app market. This digital world has therefore greatly improved the importance of app developers to be the best computer course. App developers are also responsible to manage the application, plan, and design, develop and test debugging or troubleshooting, etc. There is a big chance for mobile app developers in this digital world. Get an attractive wage and an incredibly good working environment. You need to understand the standard programming languages Java, c++, python, and PHP to become a mobile app development company.
PMP : Project management - Project managers perform program tasks, reorganize the expected vision, and maintain productive results while managing several project limitations. Freshers can be converted into a project manager in construction, engineering, IT, etc. (PMP), which is widely accepted and recognized by project managers worldwide as benchmarks. The candidate should receive minimum skills to be certified as PMP. He/she needs to have good communication skills, basic English literacy, a good computer, and an Internet order.
VFX and animation -Themes like visual effects, animation, 3D technology, graphics, etc. Previously, there were few takers to this course. But this course was once again popular with the growing demand for VFX and animation professionals. There are again several private institutes of good quality that offer animation courses. Arena Multimedia is one of the best of them. The fees vary between institutes. Throughout the film industry around the globe, animation artists and professionals are very famous. The number of animated films has now grown.
Database administration (DBA) - For an application, data is most important because organizations without data are unable to handle funding, sustain transactions, and provide customer support. The database is preserved for further use and structured. DBA's capacity lets businesses manage the database well. IT companies are ready to hire efficient database management administrators. A Bachelor of Computing Science is usually a major requirement for IT jobs.
Cybersecurity courses - Nowadays a lot of work is done online. Digital work is carried out such activities as banking, bill payment, shopping, etc. To men, this is easy. Yet they face immense security risks online at the same time. Day after day, cyber-attacks are on the rise. Cybersecurity courses all focus on online safety assurance methods for individuals and firms. You can be employed as a 'data expert' for computer systems after you have completed this course. You may also be an ethical hacker or an auditor on an impartial basis. Organizations are equipped to hire productive Cyber Security staff with smarter cyber skills. For this job, the salary is also fantastic and will leave you with no complaints.
Final Words :
There are a number of courses like UI/UX Frameworks Development, Computer Hardware Engineering, Software Programing, and Language courses and many more which can be equally beneficial. It is best to choose one depending on your field of interest.