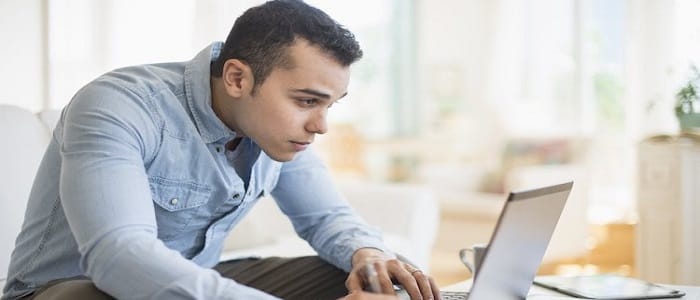 Being a hiring manager in a Delhi-based MNC, I come across dozens of job applications every day and trust me when I say that recruiters have very sharp eye to filter out the serious job seekers from the casual ones. There are several things we check to judge a candidate's seriousness for the job applied. So, the main advice that I can give to any candidate, searching for a job, is to get serious about the job search. Not taking your job search seriously can weaken your prospects of getting a job as well as make you lose a number of great opportunities. That said; here are some of the tips that you can follow to get more serious about your job search.
Google Yourself
Trust me on this one. I've conducted hundreds of interviews and had double thoughts on many candidates' demeanor when I saw their trashy pictures on Google. Most of the recruiters begin their candidate search with Google so it is advised that you Google yourself and see whether you are coming in the search result or not and if yes then what type of person do you seem from this result. If your profile has not popped up when you Google yourself, it's time you improve your web presence. To get serious about your job search, analyze your web presence and make yourself Google-able to gain a competitive edge over others.
Raise Commercial Awareness
I've come across a number of candidates who are completely unaware about current commercial activities and market trends and this is a big turn off. If you want to get serious about your job search, become commercially aware. A majority of recruiters are looking for commercial awareness in a candidate and if you have zero knowledge about business, or the industry you have applied, your chances of getting the job become automatically thin. Follow your industry leaders, read different newspapers, subscribe industry-specific magazines etc., to gain knowledge about the happenings in the business world and specifically your industry. Get serious and become commercially aware to increase your chances of getting hired.
Take Every Application Seriously
I can tell whether a candidate is serious about the job or not just by looking at their application form and the way they've filled it up. There are many candidates out there who apply to dozens of jobs just to increase their chances. They do not pay attention to all the instructions in the job application and end up wasting all the opportunities. You need to start taking every application seriously if you want to get serious about your job search. Filter out our job applications and focus on each and every application that you make.
Make Connections On Social Media
I always prefer candidates who are in my professional network or initiate to connect with me through different channels. Like me, there are thousands of other employers who pay more attention to those candidates whom they know beforehand. Make your profile on social media sites like LinkedIn and connect with hiring teams as well as other employees of the companies you have applied for. Converse with them and get started with a professional relationship so that when the recruiter sees your name they can instantly put a face and personality to that application. You can even follow your potential employers on Twitter and retweet their posts to stay in their mind.
Search For Jobs That Actually Fit Your Profile
I've seen a number of candidates applying for any job without looking into the profile. As a result, these applications go right into the trash. If you want to get serious with your job search start searching for jobs that actually fit your profile. Job search requires major time investment and focus and you just cannot let all your efforts go in vain. Even if you want to change your profile and apply for a job that is completely new, give the recruiters reasons why you are a good fit for that profile.
No matter what job you are applying for, a recruiter would always make out whether you are serious about the job or not. Follow the aforementioned steps to get serious about your job search and boost your chances of getting hired.