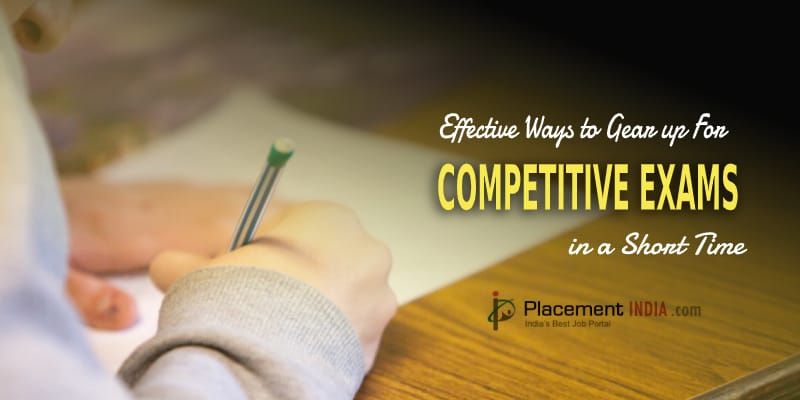 There are certain things that you must be aware of and keep in mind when you are working up for competitive exams. The first rule to get your preparations on the right track is to do the same in a proper manner. If you are clueless on how to buckle up your lace for your upcoming competitive exams for Government jobs , then read on to know all about it and how to ace it like a pro.
And, before you move on with your preparations, remember, it's always about studying enough and not studying hard.
Cracking Competitive Exams like a Pro
Just like the experts opine, competitive exams are the ideal way to bring out the best of our capabilities. While it is true that competitive exams might be difficult for most of us to crack, but it is not an impossible task either. All you really need to crack such exams is lots of patience, immense hard work, dedication, and some good guidance.
Here are few ways to mug up, and too quite proficiently. Read to know-how.
Match your home study schedule with your school schedule.
Keep away from socializing and keep away from social media for some time.
Try studying smart and not hard.
Avoid studying at the odd hours of the day.
Read the content meticulously.
Avoid studying when you are tired or sleepy.
Your Effective Study Plan for Competitive Exams
Learn to rejuvenate your mind through soothing music in between the study hours.
Use a variety of highlighter pens for books.
Plan out your study time wisely and effectively.
Reward yourself with snack breaks, in between the intervals to keep yourself going for long.
Get a cup of strong coffee to feel refreshed.
Keep away from all kinds of distractions during your exams.
Teach your mind to relax and stay away from being piled with unnecessary stress during the exams.
Early morning is the perfect time to memorize.
Try remembering the keywords
Plan out sufficient revision timing.
Shorter studies work wonders.
Maintain a proper diet and stay in a healthy lifestyle.
Exercise regularly.
Avoid picking hard subjects in a continuous manner.
Keep your mobile phones switched off during the study sessions.
Prepare for Competitive Exams sans Coaching
You definitely have come across various coaching centers promising better grades and rankings through their unique study patterns. In spite of their skyrocketing fees, people prefer joining them to crack through them.
However, it is possible to crack the exams even sans enrolling yourself in any coaching centers. Here's how:
Chalk out a good study time table for yourself that will work out well.
The study from cover to cover, without leaving out any chapters.
Do ample revision.
Solve the previous years' mock papers and exam papers.
Refer to new books for more information.
Try and do a group study if at all possible.
Cracking Government Exams in Short Time
Most students aspire to get into government jobs by clearing the competitive exams held by the government. Bagging a government isn't a child's play and requires dedication and hard work.
Here are a few good tricks and tips to crack government exams:
Concentrate on a single position and not multiple ones.
Work on your weaker areas.
Do not jeopardize your health at any cost.
Practice as many mock papers as your health and mind permits.
Increase your level of concentration.
Seek help from seniors.
Be confident.
(Read Also : Top 10 Tips to Qualify Competitive Exams to Get Govt Jobs )

The only mantra to do well is to keep calm and work hard. Any kind of stress shall hinder your preparation pace and would keep you from achieving your goals. With stronger dedication, zeal, the right amount of concentration in your revision and study ours, you are sure to ace to the competitive exams and ultimately bag one of the best government jobs of your dreams. Keep working hard. Good Luck!