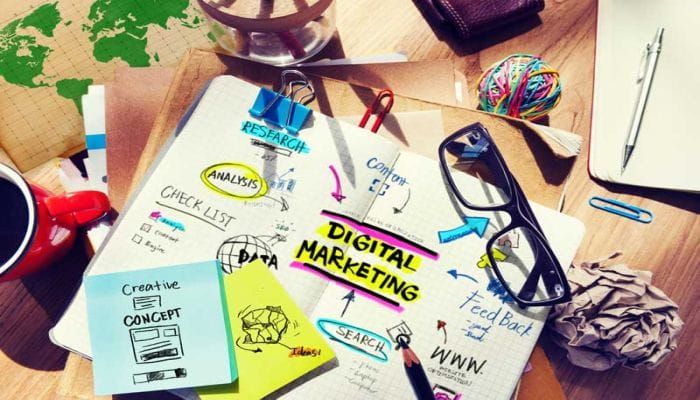 Did you know for over 1.5 lakh jobs were expected to be created by 2016 in the digital marketing in the year 2014 by the HR experts?
Yes, you heard it right!
In fact, 25,000 jobs openings were already launched in the year 2014 as per the reports. India is evolving as the digital outsourcing hub for ample of services that are inclusive of online advertising, website design as well as social media. Besides the fact, that e-commerce businesses are constantly increasing, the rising demand of digital marketing is also prompted by the increased use of internet and mobile phones.
Let's just peep more and know about the scope and career in digital marketing India:
Digital Marketing India: The Growth
The demand of digital marketing is constantly growing slowly and steadily. Thanks to the emergence of new mobile applications! Presently, 50% of the population of India has started reading the newspaper online instead of the hard copy ones.In India, digital marketing is the single or one can say the only industry that is burgeoning with more than 30% rate and has not touched the saturation point yet. Plus, it is expected that this industry is going to produce more than 20 lakh jobs in India by 2020.
Already, India is the second most crowded Internet market of the world. Moreover, the recently started scheme "Digital India Campaign" by Prime Minister Narendra Modi is simply like icing on the cake. This is how; the future of digital marketing industry looks promising no doubt.
The Fundamental Career Opportunities
There are a number of job opportunities opened for all the ones who are interested in digital marketing India. Following are some of the key careers that you can opt from:
Search Engine Specialist
Online Advertising Specialist
Social Media Marketer
Digital Campaign Planner
E-commerce Specialist
Affiliate Marketer
Marketplace Manager
Web Analytics Executive
Online Leads Manager
Online Entrepreneur
Web Content Manager
Digital Account Manager
Online Reputation Manager
These Are The Job Prospects!
As more and more companies are integrating digital marketing as one of their fundamental marketing strategies, this is going to bestow a number of job opportunities to all the fresh graduates.
And moreover, if you are a B.Tech or B.Com graduate, with digital marketing as your career option, you are going to have many ways to earn money as well as a great career as an entrepreneur. No doubt, digital marketing guarantees you an assured job. Since it is a comprehensive stream, you can pick careers of your own choic
This Is What Experts Have To Say!
Krishna Mohan who is the AVP of business development and regional head at Magnon Solutions advises the ones who want a career in digital marketing. He says
"The candidate must be a complete internet-freak! He should have more than a basic knowledge about the internet and should have a strong presence in it. They should be creative and understand how to create strategies which are campaign-specific."
With so much of data analysis taking place all over the globe, we have stepped into the era of Big Data without a doubt! Each and everything is getting digitized, so what if marketing is also getting? All-in-all, stepping into the world of digital marketing is one of the lucrative career options today!