How to achieve Great Professional Success in Working Sector: The Ultimate Mantras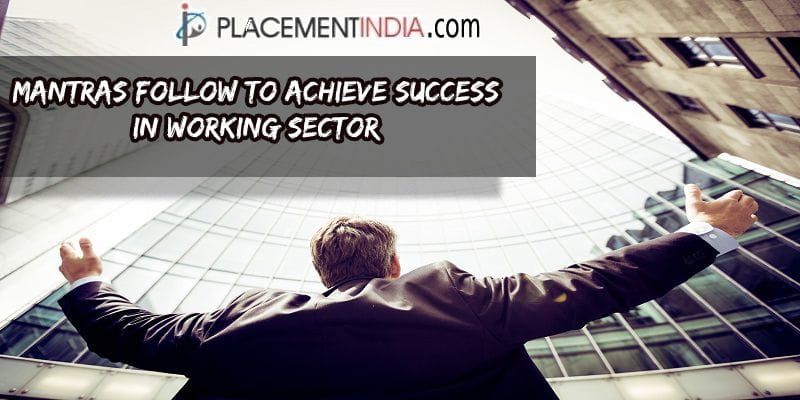 Among all the motivation factors for the professionals working in today's world, one of the most critical factors is that they achieve part of their office life. Though with the various challenges that we often meet at work doesn't make success seem easy. This is mainly for those millennials against whom all odds are stacked.
The professionals working today face a lot of problems starting from the harsh market conditions, the competition within the office, and economic slowdown, which are not in the hands of any human.
Unique are some factors that can help a person to achieve success in everything that does. These will take your career to a whole new level and will make you reach that height in the future.

Set Your Goals
This is the first and most important thing to keep in mind. Following this will lead you to success. Until and unless one is not clear about what to achieve in life he or she will not be able to work in the direction to get that success.
Having a clear picture of your goal will let you achieve something that probably helps you to chalk out and plan according to it. You can finalise your winning strategy with the plan and purpose. This includes execution, planning and developing. To be successful in the job in India, you need to go for the purpose by knowing what to achieve.

Success Strategy Is What You Need To Build
The second step that one needs to take is to build up a strategy. To get that success, you need to carve out and clear our path towards your goal. Therefore building a successful strategy is very important and pivotal when you want to achieve that success.
Your success strategy should help you to build up a ladder with small tasks completing which you will be able to reach progress towards your ultimate goal.
For example, if you want to get a promotion at work, then you will need to do all kinds of jobs that will help you build your performance at work. Therefore go beyond the KRA or the Key Result Area that is fixed by the manager and do something extra and special that will highlight you and will make you seem different than the people in the crowd. This will prove to the company that you are ready for the promotion.

Set Your Priorities Right
When you work in an office that are chances that you get distracted and go slightly off track. There are several different distractions at work that can hamper you at work such as peers, breaks, weekend parties etc.
These will make you deviate from your actual work path and will impede your progress towards your goal. Therefore it is essential for you to set your priorities right and work on it as a daily routine.
For example, keeping a budget check or monthly budget check is the goal of several people these days. But to achieve that, one needs to curb out the spending that one makes on everything.

Try To Develop The Necessary Knowledge And Skills
To be successful in jobs in India, you need to develop your knowledge and skills more broadly. The professional success is what comes out of knowledge and skills and one cannot cut over it.
Therefore if you want to gain success in your field, then try and get more and more understanding of it and improve in that area. Moreover, the dynamic environment in which we work today needs us to keep an update about everything.
Thus, follow these above mantras or tips to be successful in your area of interest.